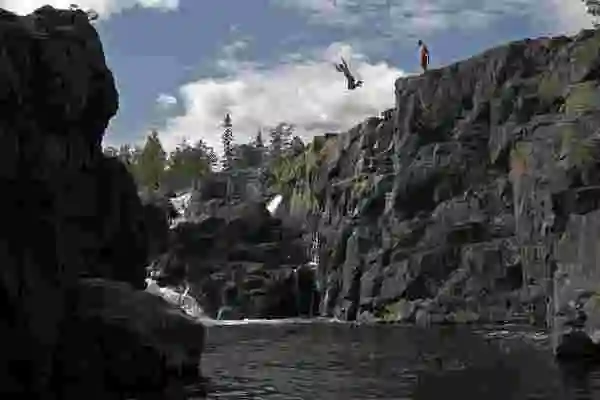 THE DEAD FALL
The area around Storforsen has strong historical roots.
In the 19th century people began using the rapids to ship timber from further inland, down to the coast. Before then the rapids were both wider and shallower than they are today, but they were redirected between 1878 and 1945 so that the timber could pass easier.
The bottom of the old river dried out and formed what today is known as the Dead fall. Here the water-sharpened cliffs meet wild canyons that have been carved from the mountain where the water once flowed.
From several levels of the mountain you can dive straight down into the water filled valley, the highest level is an astonishing 12 meters!
Around the Dead Fall there are several giant's kettles, carved in the mountain. The beautiful place right next to Storforsen reminds you of the power of nature and water.
"Absolutely great stay with stunning view to the falls! Staff is very polite and nice. Comfy beds, hot shower and tasty breakfast. Varm recommendation! Nice hiking trails close by, easy access for everyone. Great to wake up in the morning to see falls."
"We went for a one night break but stayed an extra night as we got a good rate and the management upgraded us to a suite. Fantastic view from the room, great breakfast and lovely walks round the waterfalls and area. Very pleasant and attentive staff and a very clean well run hotel."
"Outstanding views and the not so distant thunder of Storforsen. Well kept, very nice room, and service minded staff. Evening buffet served 17-19. Some rooms have it included and it really is OK. Make sure to get a room with view to Storforsen!"